On September 12, local time in the United States, RE+, the world's top energy solutions exhibition, officially opened. CALB, China's new first-tier power battery company, released innovative 314Ah large-capacity, high-specific-energy, long-life energy storage cells and supporting solutions at the exhibition, and has begun batch delivery in September.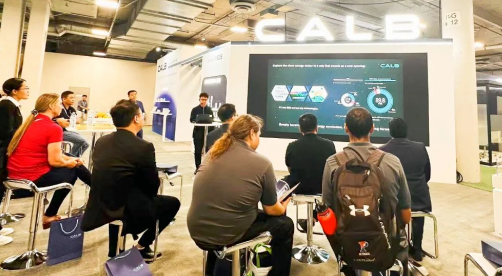 According to reports, CALB's upgraded 314Ah lifepo4 battery adopts breakthrough lithium replenishment technology, and its cycle life has been greatly increased to more than 15,000 times. It can support the operation cycle of the energy storage system for up to 25 years, providing customers with more cost-effective storage. can solution.
The person in charge of CALB's International Business Department said: "The debut of the new 314Ah battery cell in RE+ marks another important step for CALB in the field of electrochemical energy storage, and will play a greater role in the process of global carbon emission reduction and carbon neutrality. role. With its leading R&D capabilities and complete supply chain support, CALB is well prepared in terms of technology, products and services to provide more complete energy storage solutions for the sustainable development needs of global customers."
Large capacity becomes the high ground for technological competition
It is understood that large-capacity batteries have become the high ground for technological competition in the current energy storage battery market. According to incomplete statistics from the CNESA Data Link global energy storage database, from January to June 2023, a total of 8.0GWh of energy storage battery cell centralized procurement tenders were issued in China (excluding communication energy storage batteries), of which 7.8GWh have announced winning bid results, from battery cells to In terms of capacity, it is mainly concentrated in 280Ah lithium iron phosphate batteries.
At the same time, the energy storage industry is iterating towards 300Ah or even higher capacities, and many companies on the market have released energy storage cell products with capacities exceeding 300Ah. However, as of now, most companies' 300Ah+ large-capacity energy storage cells are still in the sample stage and have not yet undergone substantial mass production.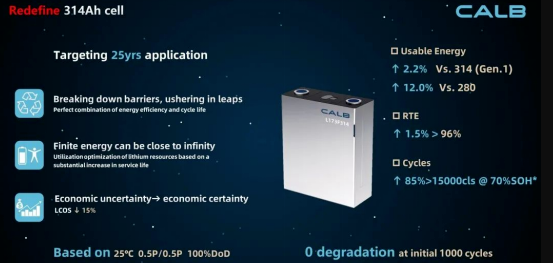 CALB is the first company to mass-produce and deliver 314Ah energy storage cells in batches. The capacity of 314Ah is 12% higher than that of 280Ah.
Not only does battery cell technology lead the industry, CALB's energy storage supporting solutions are also leading. For example, at the International Intelligent Energy Storage Conference CESC 2023, CALB has demonstrated highly integrated air-cooled and liquid-cooled energy storage container solutions with a single cabinet capacity of up to 6.58MWh to global customers.
For comparison, a leading company recently launched what is claimed to be the world's first liquid-cooled energy storage system, with a capacity of only 5MWh.
Robust energy storage CALB battery has a long history
Affected by factors such as changes in the international energy landscape and geopolitical risks, the energy storage market has developed rapidly in the past two years. For example, in the first six months of this year, the newly put into operation installed capacity of new energy storage was approximately 8.63 million kilowatts/17.72 million kilowatt hours, which is equivalent to the total cumulative installed capacity in the previous years.
Against this background, the energy storage industry has attracted a lot of capital to enter the market for short-term competition.
However, new entrants often cause various accidents in many energy storage projects due to inadequate technology.
In addition, many companies are currently producing power battery production lines for the production of energy storage batteries. This is a huge drain on energy storage safety management, thermal management, kilowatt-hour cost, etc. Using a power battery production line to produce energy storage batteries is not the best solution.
What the energy storage market needs is professional companies with technological accumulation and strong product capabilities.
CALB has been focusing on energy storage for 15 years and has witnessed the development of China's energy storage industry. It is the earliest domestic battery company to participate in megawatt-level energy storage projects, has the largest number, and has the richest application experience.
CALB's representative energy storage projects include: Shenzhen Baoqing Energy Storage Power Station of China Southern Power Grid built in 2010, which is the first megawatt-level station-type energy storage project; State Grid Zhangbei Wind and Solar Power Storage Station built in 2011, which is a world-scale The largest new energy comprehensive utilization platform; the Longyuan Tibet Ali Microgrid Optical Storage Power Generation Project built in 2012 is the first and only high-altitude microgrid energy storage project; the State Grid Jiangsu Phase II Energy Storage Kunshan Station built in 2019 is the world's first The largest single-station lithium battery energy storage station on the grid side...
In other words, as one of the first batch of energy storage demonstration projects in my country, the energy storage products delivered by CALB have undergone the most stringent environmental tests and have been fully tested in many aspects such as safety and reliability, energy density, endurance and reliability throughout the life cycle. It has been widely used and has been running stably for a long time in various scenarios such as offshore islands, remote plateaus, high cold and low pressure.
It is understood that currently, CALB is making technological breakthroughs in electrochemical material systems and manufacturing processes to achieve the ultimate in long life and dynamic performance in response to the needs of medium and long-term applications, guaranteed grid-connected distribution and storage, and frequency modulation auxiliary services faced by energy storage applications. Balanced, we have specially developed 0.25P, 0.5P and 1P special long-life battery products.
Today, CALB is the first in the industry to mass-produce 314Ah large-capacity, high-specific-energy, and long-life energy storage cells.
It is worth mentioning that CALB has launched 100Ah and 72Ah long-life products for household energy storage scenarios.
At the system level, CALB provides container energy storage products for large-scale power energy storage and large-scale industrial and commercial energy storage, including 40-foot air-cooled 6.58MWh, 20-foot liquid-cooled 3.73MWh series products; outdoor cabinet products for small industrial and commercial , forming a series of solutions of 233kWh, 265kWh, 373kWh, and 425kWh; for household energy storage scenarios, a solution that fully covers the power demand of 5~40kWh has been launched.
In the context of global warming and the increasing depletion of fossil energy, promoting the rapid development of clean energy has become a global consensus, and vigorously developing renewable new energy to replace traditional energy has become an inevitable trend.
CALB has made long-term and comprehensive preparations for energy storage technology. On the basis of fully studying market demand and combining its own technical capabilities and industrialization strength, it has developed a series of high-performance, high-safety, and high-application-efficiency products, including The core of the energy storage system - battery cells, also includes energy storage system solutions and other core components.
In general, CALB is continuing to delve into the energy storage market, providing customers with complete product solutions, and contributing to the development of the global new energy industry!