Energy storage battery market share tops the global list! catl out of overseas acceleration!
All Energy Australia 2022, the largest and most popular clean energy exhibition in Australia, was successfully held at Melbourne Convention and Exhibition Center. As a global leading new energy innovation and technology company, call appeared at the exhibition with its battery energy storage system all-scenario solutions.
First-class energy storage solutions
Helping Australia's Energy Transformation
At NDT's booth, EnerOne, an outdoor liquid-cooled energy storage cabinet, which is a star product characterized by long life, high integration, and high safety, attracted special attention.
This product adopts a 280Ah lithium iron phosphate battery cell, with a cycle life of up to 10,000 times. The integrated liquid-cooling system can control the temperature difference within 3 degrees Celsius, which is a significant improvement compared with the industry's temperature difference of 5-8 degrees Celsius, and effectively improves the service life.
Moreover, it occupies only 1.69 square meters and has a compact structure. Compared with traditional air-cooled products, the footprint is reduced by 35%, which further reduces the construction cost. It has a wide range of adaptable working voltage and is compatible with inverters between 600V and 1500V.
In addition, it has passed key tests at the core, box, and cabinet levels, including UL9540A tests at the cabinet level without any fire protection system support and fire.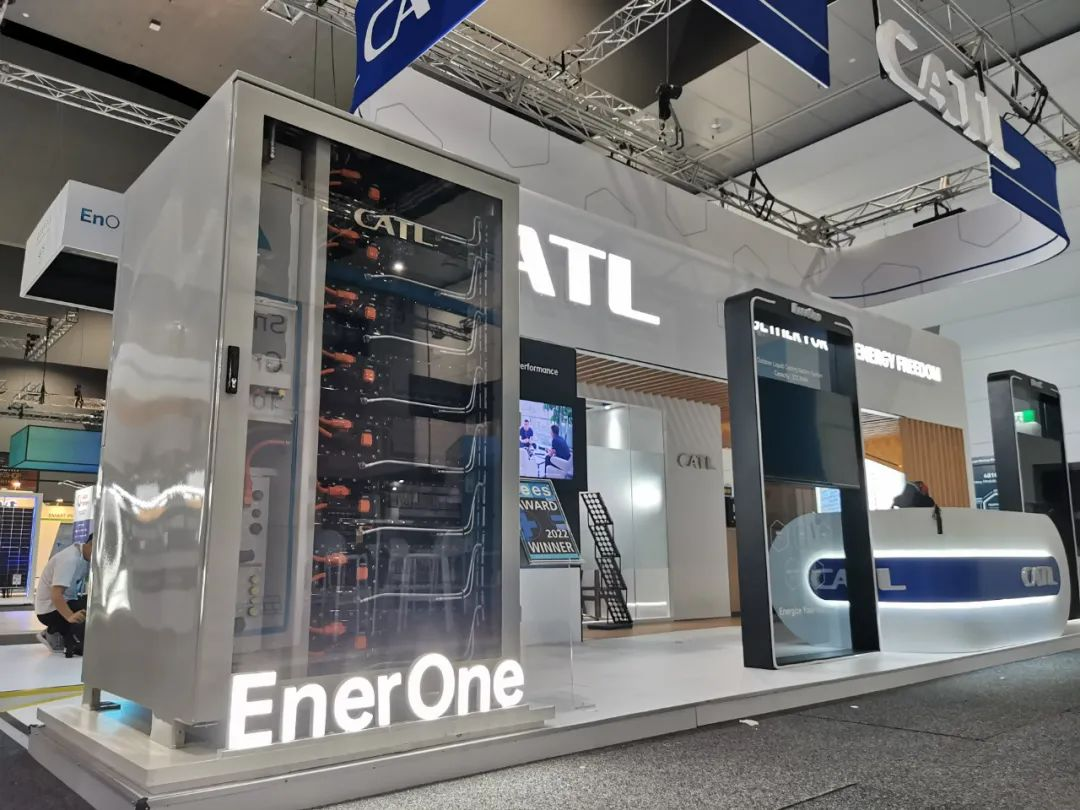 Outdoor liquid-cooled energy storage cabinet EnerOne
In addition to EnerOne, CATL also exhibited containerized liquid-cooled energy storage system EnerC, UPS lithium battery cabinet, 48100 base station power box, and home storage series products, which comprehensively covered the application scenarios of energy storage in power generation, transmission and distribution, and power consumption, fully demonstrating the company's all-around strategic layout and technological strength in the energy storage business.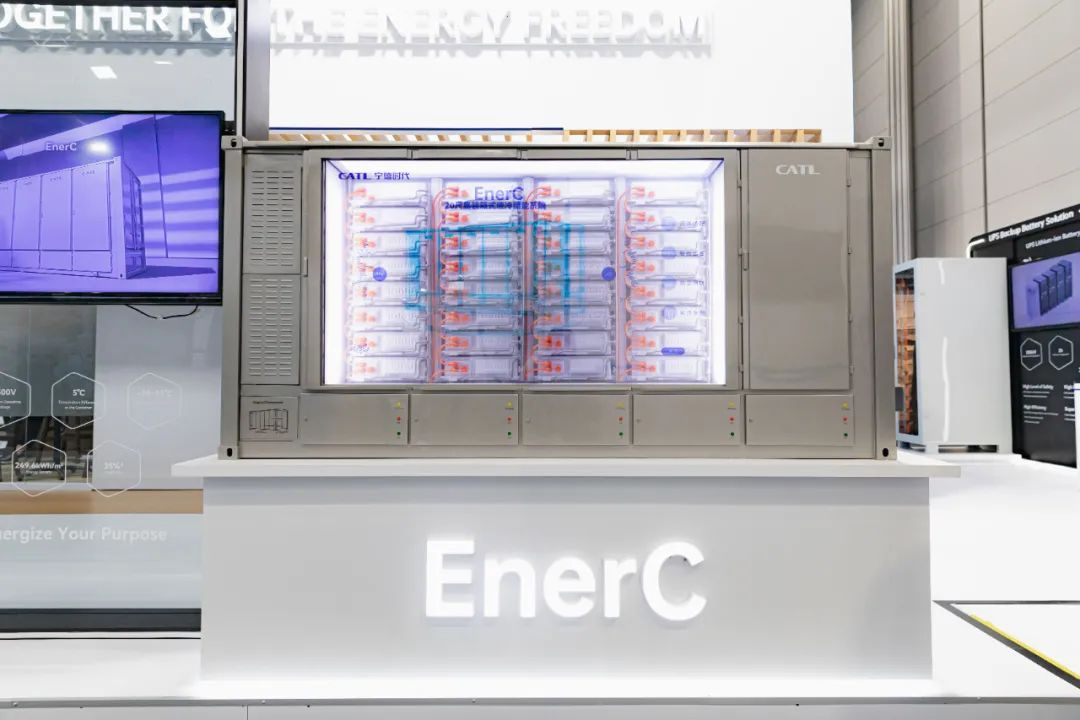 Containerized liquid-cooled energy storage system EnerC
Australia, the venue of this exhibition, is rich in high-quality solar energy resources and has a unique advantage in photovoltaic power generation. Against the backdrop of a global consensus on carbon neutrality, Australia is striving to promote energy transformation and increase the share of renewable energy in power generation.
To help the local energy transition, CATL has utilized its advantages to cooperate with its partners in several battery energy storage projects in Australia. For example, the first large-scale grid-connected battery storage project in Western Australia, the 250MWh battery storage project on Torrens Island in South Australia, and the largest privately-invested grid-connected battery storage project in Australia, located in Victoria. Meanwhile, Ningde Times also provides an energy storage system for a large-scale rooftop photovoltaic system of a hospital in New South Wales, which saves the hospital's cost by storing solar energy efficiently and contributes to sustainable development.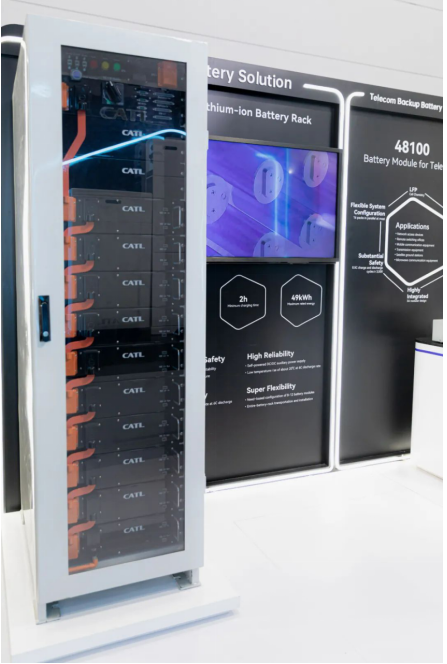 UPS Lithium Battery Cabinet
According to the international energy network/energy storage headlines (micro signal: chuneng365), in 2021, the CATL era energy storage battery production market share ranked first in the world and delivered more than 100 large-scale energy storage projects in the world. in the first half of 2022, CATL-era energy storage system revenue increased by 171%.
CATL Accelerates Expansion
The growth of global market share is also inseparable from the "big pace" of overseas expansion of CATL. The financial report shows that the battery business of CATL realized 22.254 billion yuan of revenue outside the country in the first half of 2022, which is ten times more than that of two years ago (the first half of 2020), and the proportion of overseas revenue in the total revenue is close to 20%.
At present, going overseas has become an important direction for CATL to make strength. on October 18, CATL announced that it had reached an agreement with the U.S. energy storage development operator Primergy Solar LLC to exclusively supply batteries for the Gemini PV + energy storage project.
With the project's total investment of 1.2 billion U.S. dollars, the deployment of 690 MWac / 966 MWdc solar panels, and a 1.416GWh energy storage system, the project will become one of the major U.S. photovoltaic energy storage projects after the completion of the project. Earlier this year, Primergy selected several of the world's leading equipment suppliers and construction partners for the Gemini PV+storage project.
In addition to this, on September 21st, CATL entered into a partnership with FlexGen, a U.S.-based energy storage technology platform, and solution provider, to supply it with 10GWh of energy storage products over three years. The product has both IP55 protection grade and C5 anti-corrosion grade, which can adapt to many kinds of extreme weather and meet the safe and reliable operation of the whole system for 20 years. With the industry-leading design of the highly integrated liquid cooling system, the energy density of EnerC can reach 259.7kWh/m, which is nearly two times higher than that of traditional air-cooled systems.
The cooperation between CATL and FlexGen in energy storage system projects has exceeded 2.5GWh, while in the U.S., CATL already owns three energy storage projects with a total capacity of more than 2.1GWh in Southern California Edison, as well as more than 500MWh of commercial energy storage projects in operation and under construction in Texas.
Up to now, in terms of energy storage batteries, CATL has developed business cooperation with the top 10 international customers in energy storage demand, such as Nextera, Fluence, Wartsila, Tesla, and Powin.
The energy storage market has become CATL's second growth curve. Zeng Yuchun, Chairman of CATL, has predicted that by 2030, the global market shipment of power batteries will reach 4,800GWh, and the demand for energy storage batteries will also exceed 1,000GWh.
Next:Chinese enterprises continue to lead the global lithium battery market
Prev:CATL's EnerOne battery storage system won ees AWARD 2022